Published April 18, 2016, 12:04 p.m.
Hello all!
We glad to inform you about updating version to beta 0.1.1 and supporting of Mac platform. A lot of changes were implemented. Since now we will distribute an application with installers and archive packages (archive packages will not have possibility to update automatically)
For ease of tracking events there appeared account in Facebook
This version supports next renders:
Cycles
Blender render
Blender game
YafaRay
LuxRender
V-Ray

Soon there will be also added support of
Octane render
indigo
RenderMan
Shaders and textures are supported.
Keys shortcuts for left and right panel are added:
Ctrl+L - for left
Ctrl+R - for right
Added new tab in Blender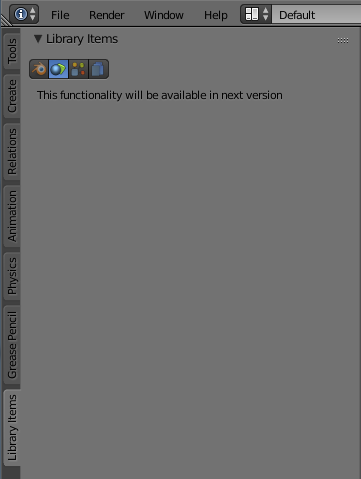 The tab will response of partly data synchronization between client and Blender.
The system has restrictions on quantity of private elements in Global private library. These restrictions work in the following way: 3 to 1, that means you can have three private elements per one public element. This does not apply for items created by other users which you added to your library. There are no restrictions for local library.
In next version we are planning:
1.Offline access to local library.
2.Ability to edit materials.
3.Viewing of material statistics.
4.Supporting type texture with ability to completely maps.
5.Profile editing.
6.Synchronization with Blender's tab.
If you have problems with activation of your account please contact here:support@lib-items.com
During registration of account email with activation code can be labeled as spam. If you find a message wrongly classified as spam, we advice to check your spam/junk folders. This issues is confirmed with hotmail.com and yahoo.com
If you have some problems during starting of LibItems follow this link.
We are very appreciated to everyone who expected new version and we will glad to hear your remarks and proposals.